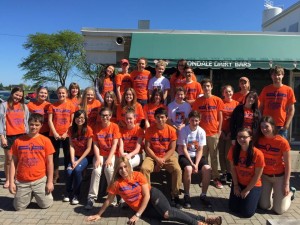 "Ice Cream the way it is supposed to be"
All of our ice cream is made fresh daily on premise-Last year we made about 100 different flavours.  And it's made the old fashioned way, all of the ingredients are blended into the ice cream by hand. This is not large factory automated style ice cream, and we have not ever lowered the quality of our ice cream to bare minimum government standards levels as most of the large ice cream companies have.
We use only the BEST ingredients and lots of them in our flavours with 15% dairy butterfat base. This combination makes our ice cream taste smooth and creamy.
Really it will ALWAYS be about quality. We are passionate about choosing the finest dairy products, flavourings, ingredients, toppings, and preparing them with great care.
But Avondale Dairy Bar is more than that. It ignites an emotional attachment based on our surroundings, tradition and nostalgic memories. It becomes a personal escape "out in the country."
We expect our staff to be fully engaged and be their best to connect with our customers. We coach and train them so that they will be and we are extremely proud of all our staff.
We will preserve our tradition.